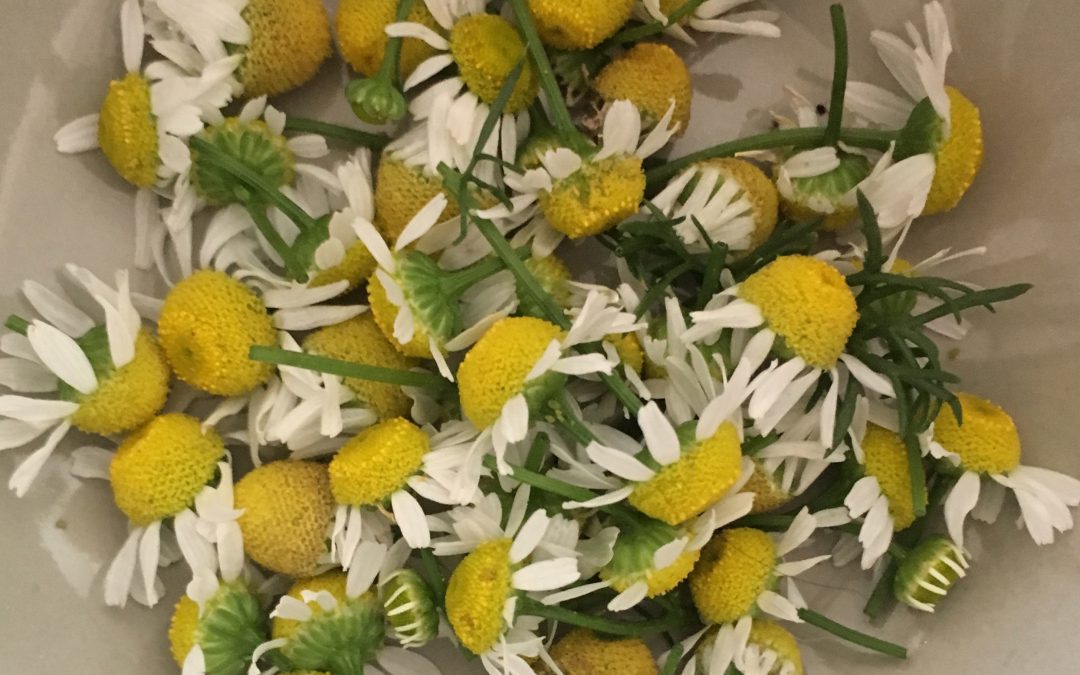 Ahhh.. chamomile…the humble herbal tea is actually a powerhouse of healing. This delicate flower is a potent calming and anti-inflammatory herb that can be used for tummy aches, anxiety, sleep, and pain. It is super versatile, extremely gentle, and delicious to boot. Used for hundreds of years (possibly even thousands), this herbal medicine is surely a keeper for our modern medicine cabinets.
Digestive Health
Chamomile soothes spasms of the smooth muscles in the digestive tract, making it an ideal remedy for intestinal cramping and pain from gas. Being a calming and anti-inflammatory herb, it is beneficial to many people with IBS (irritable bowel syndrome) and nervous diarrhea.
Reproductive Health
This charming flower also curbs cramping within the reproductive organs, so it can help soothe menstrual cramping.
Emotional Health
Chamomile's calming properties make it beneficial for people with anxiety, feelings of restlessness, and difficulty falling asleep. Chamomile can promote restful, easy sleep, and especially helpful for those suffering from inflammatory pain conditions, such as arthritis and fibromyalgia. Because it is such a pleasant and gentle herb, chamomile is a wonderful choice for calming day to day anxieties and managing stress.
For Children
Chamomile has been shown to be effective for babies suffering from colic. Young babies can drink up to 1 to 2 ounces of room temperature tea at a time and up to 3 or 4 ounces per day. Chamomile can also soothe many childhood tummy aches and stomach upsets. Kids usually tolerate the mild flavor of chamomile very well.
How to Use Chamomile
Chamomile is most commonly taken brewed as an herbal infusion. To make an infusion, steep 1 teaspoon of dried chamomile flowers (or 2 teaspoons of fresh flowers) per cup of boiling water. For children, strain after 2 minutes to prevent the tea from becoming bitter. For adults, brew for 5 minutes to attain full flavor. A longer brew time enhances the bitter quality of the herb, making it better for digestive complaints.
A chamomile infusion is most often drunk to benefit the digestive system, reproductive system, treat pain, and calm the nerves. It can be taken a cup at a time as needed.
Chamomile infusion can also be used as a topical wash to soothe inflamed skin and promote healing of bruises. It can be used over minor injuries or irritated skin such as acne or minor scrapes.
Cautions: Although considered very safe and mild, always check with a physician. Chamomile is cautioned in pregnancy and causes allergic reaction for some people.
Your Initial Consultation is Free.
Come in and meet us in person. Learn more about our approach and what we do. The free consultation is an opportunity to review your health history and goals and see if you're comfortable with our philosophy and recommendations.