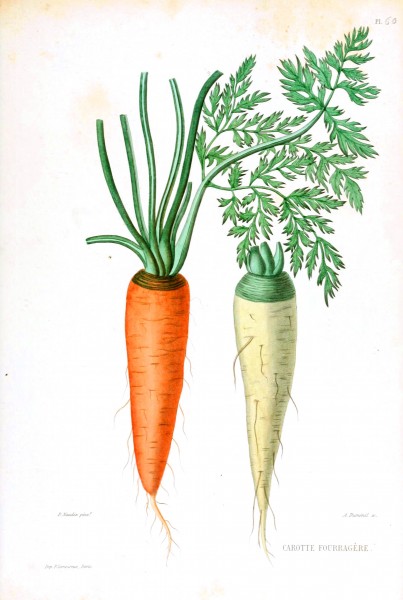 Packed with vitamin A and beta-carotene, carrots are a great way to have fresh vegetables in your diet year round.  With winter drawing to a close, but the bounty of spring not yet upon us, thankfully the humble carrot is available fresh year round.  This recipe is written for the common carrot, but try preparing a version with the tiny and colorful spring varieties as they start to appear.
"The day is coming when a single carrot, freshly observed, will set off a revolution."
-Paul Cezanne
In Eastern medicine, the carrot is thought to benefit the lungs, supplement energy, support good digestion, and improve liver function.  It is often used in the treatment of tumors and stones.  Carrots help balance digestion, are recommended for heartburn and chronic intestinal issues, and the vitamin A and beta-carotene found they contain is beneficial to the eyes, ears, and skin.
This slightly sweet and easy-to-prepare salad has become a staple in our home.  It makes a nice accompaniment to chicken or salmon, or becomes a lighter meal on its own or paired with a dollop of hummus.  I often prepare a double, or even triple, batch to have a healthy meal ready to go when life gets really busy.
Ingredients
1 cup quinoa, rinsed well*
Salt
1/2 small red onion onion, cut into crescents
4 tablespoons apple cider vinegar
2 tablespoons honey
1/4 cup black currants
Freshly ground black pepper
3 medium carrots (about 1/2 pound), thinly sliced on a diagonal
3 Tablespoons olive oil plus more for baking sheet
Finely grated orange zest from 1 orange
Directions
Preheat oven to 450°F. Bring quinoa and 2 cups of water to a boil in a medium saucepan. Cook in a rice cooker, or simmer until quinoa is tender, 10-15 minutes. Fluff with a fork and transfer to a large bowl; let cool.

Lightly coat a large baking sheet with olive oil. Whisk 2 tablespoons of the cider vinegar and honey in a large bowl to blend; season with salt and pepper. Add carrots and onion and toss to coat. Transfer to the baking sheet and roast until tender, 15-20 minutes. Let cool.

Whisk the remaining 2 tablespoons of vinegar, orange zest, and olive oil in a small bowl. Season vinaigrette with salt and pepper. 

Add carrots, currants, and vinaigrette to quinoa and toss to coat. 
* For the easiest digestion and best nutritional value, I recommend soaking your quinoa overnight before cooking.  Simply combine the quinoa and water with 1 tablespoon of cider vinegar or yogurt, then cook as normal the next day.  To find out more about the why and how of soaking grains, read this.
Your Initial Consultation is Free.
Come in and meet us in person. Learn more about our approach and what we do. The free consultation is an opportunity to review your health history and goals and see if you're comfortable with our philosophy and recommendations.