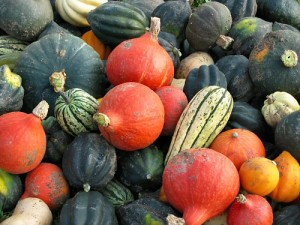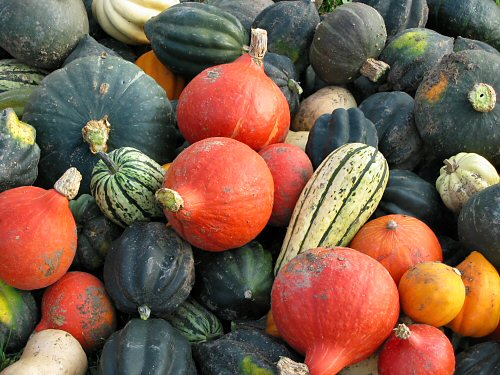 One of my favorite parts of fall is the arrival of winter squashes in markets and shops.  I love to see all the colors, shapes, and textures of this hearty vegetable.  From the humble acorn to the sophisticated butternut, squashes always make for delicious and hearty fall fare.  Eastern medicine considers squashes mildly sweet and beneficial to the Stomach and Spleen.  Especially when served warm, squash soup is easy to digest, even for people who tend to have nausea or abdominal cramping.  This soup is simple to make, saves well, and best of all, can become a healing tonic with a few simple additions.
Ingredients
2 tablespoons butter 1 onion, chopped 1 1/2 pounds squash, such as butternut, carnival, or pumpkin, peeled and cubed
salt and pepper to taste
Additions
Fresh ginger- 1 2-inch piece, peeled and chopped.  Fresh ginger is good for people who have asthma or allergies that tend to be aggravated by cooler weather.  Ginger is also great to add if you feel a cold or flu coming on.
Nutmeg- 1/2 teaspoon.  Nutmeg is a warming spice that is used to ease digestion and treat loose stools, especially for people who have difficulty digesting cold or raw foods.
Cinnamon- 1/2 teaspoon.  Cinnamon is another warming spice that boosts circulation and regulates blood sugar.  It is useful for arthritis or achy joints that are worse in cold weather, or for cold hands and feet.  Cinnamon is also commonly used to stabilize blood sugar in diabetes.
Pine Nuts- 1/4 cup, toasted.  Use as a garnish.  Pine nuts are moistening to the Lung and Large Intestine.  In Eastern medicine, pine nuts are used to treat dry coughs or constipation.
Directions
1. Melt butter over medium heat in a 6 quart or larger pot.  Add onion and cook about 2 minutes.  Add any additions (from above) and cook until onion is soft and spices are fragrant, 6 to 8 minutes.  Add cubed squash and 4 cups of water.  Bring to a boil, reduce heat, then simmer for 20-30 minutes, or until squash is soft.
2. Puree the soup, with either an immersion blender, or in batches.  Serve hot.