Acupuncture and East Asian Medicine for Pregnancy
Acupuncture and Eastern Medicine have long played a role in maintaining health during pregnancy and in the postpartum period. Acupuncture, Shiatsu massage, herbal medicine, and other Eastern healing techniques are incredibly safe for both mother and baby. These techniques are effective for a variety of pregnancy-related complaints and prepare mothers for childbirth and the newborn phase. The childbearing year is a window of opportunity to prepare the child for a lifetime of health and vitality and also to prepare the woman for her life as a mother. Eastern medicine plays a preventative and preparatory role during pregnancy as well as managing any problems as the arise.
Nausea During Pregnancy
Every woman I know anticipates nausea and morning sickness as a miserable but necessary part of pregnancy. While not every pregnant woman experiences this malady, many do, but acupuncture and herbs can help reduce the severity and frequency of symptoms. Research shows that weekly acupuncture treatment lessens nausea, retching, and vomiting in early pregnancy. In more severe cases, acupuncture and herbs can help women avoid the use of medication to manage their symptoms.
Muscular & Skeletal Pain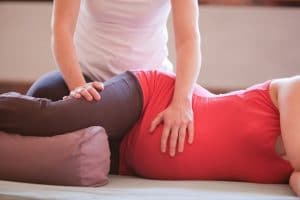 For many women, the later stages of pregnancy are difficult because of pain. As the baby grows and puts increasing pressure on the mother's body, she may develop muscular or skeletal pain, such as back pain, sciatica, or symphysis pubis (pubic bone) pain. Acupuncture and shiatsu massage can be a much-needed form of relief, lessening pain and discomfort, and without the dangers of pain medications during pregnancy.
Breech Position
Towards the end of pregnancy, most babies will rotate into a head down position in preparation for birth. Breech, or head-up position, occurs in 3-5% of pregnancies at term, and typically indicates a cesarean birth. Acupuncturists may use both needles and a moxibustion technique to encourage baby to move into optimal position for delivery. Read all about Breech Position and Eastern Medicine here.
References
Your Initial Consultation is Free.
Come in and meet us in person. Learn more about our approach and what we do. The free consultation is an opportunity to review your health history and goals and see if you're comfortable with our philosophy and recommendations.